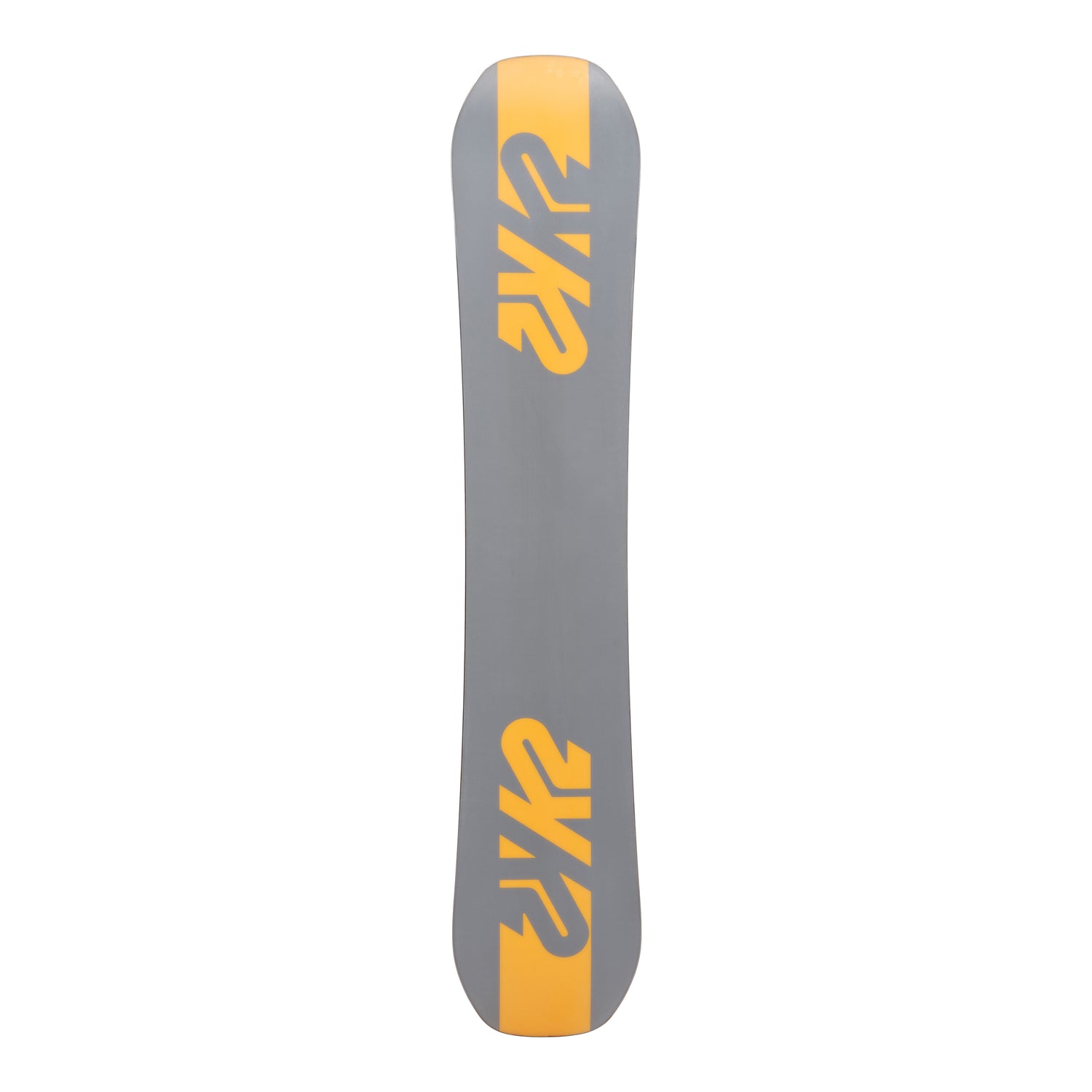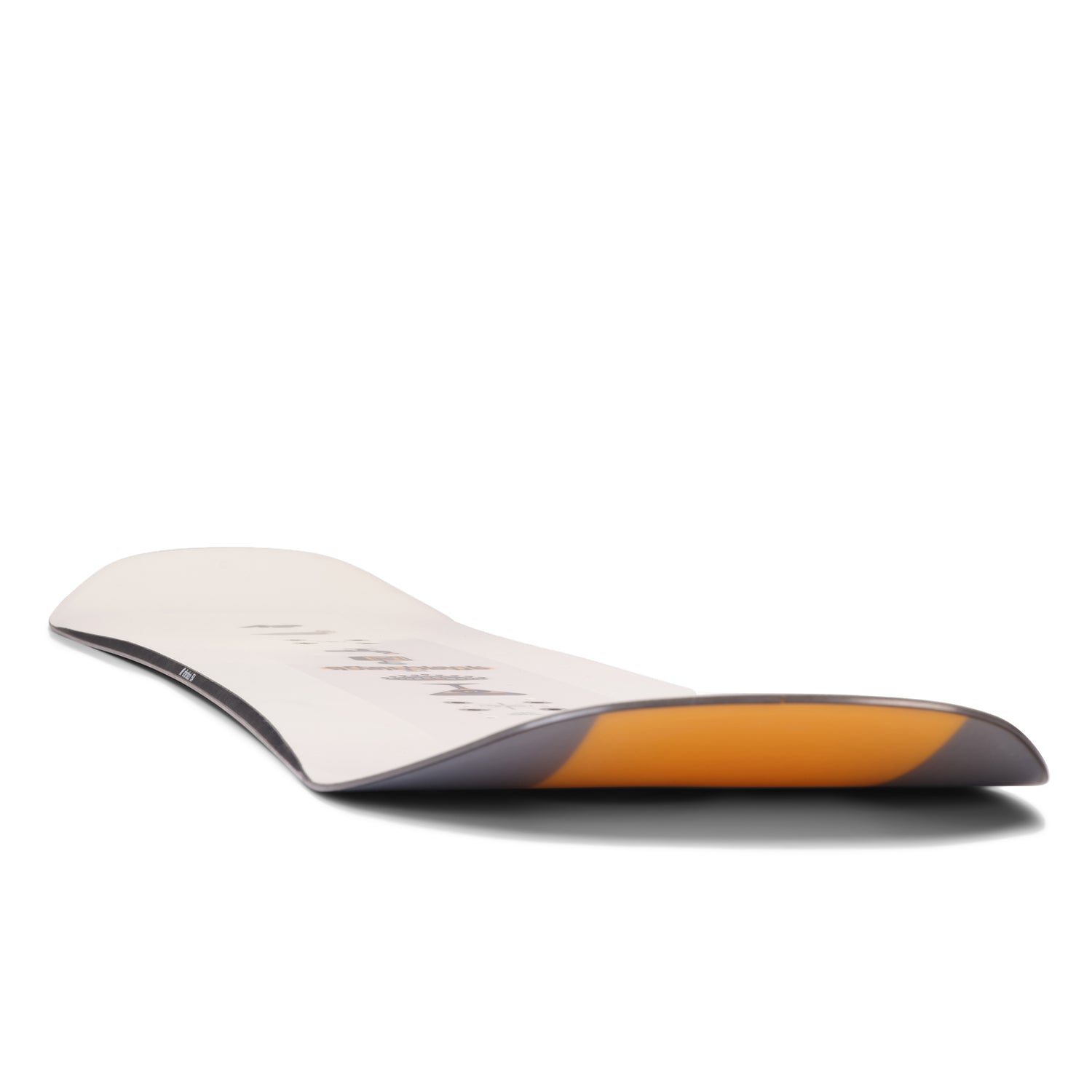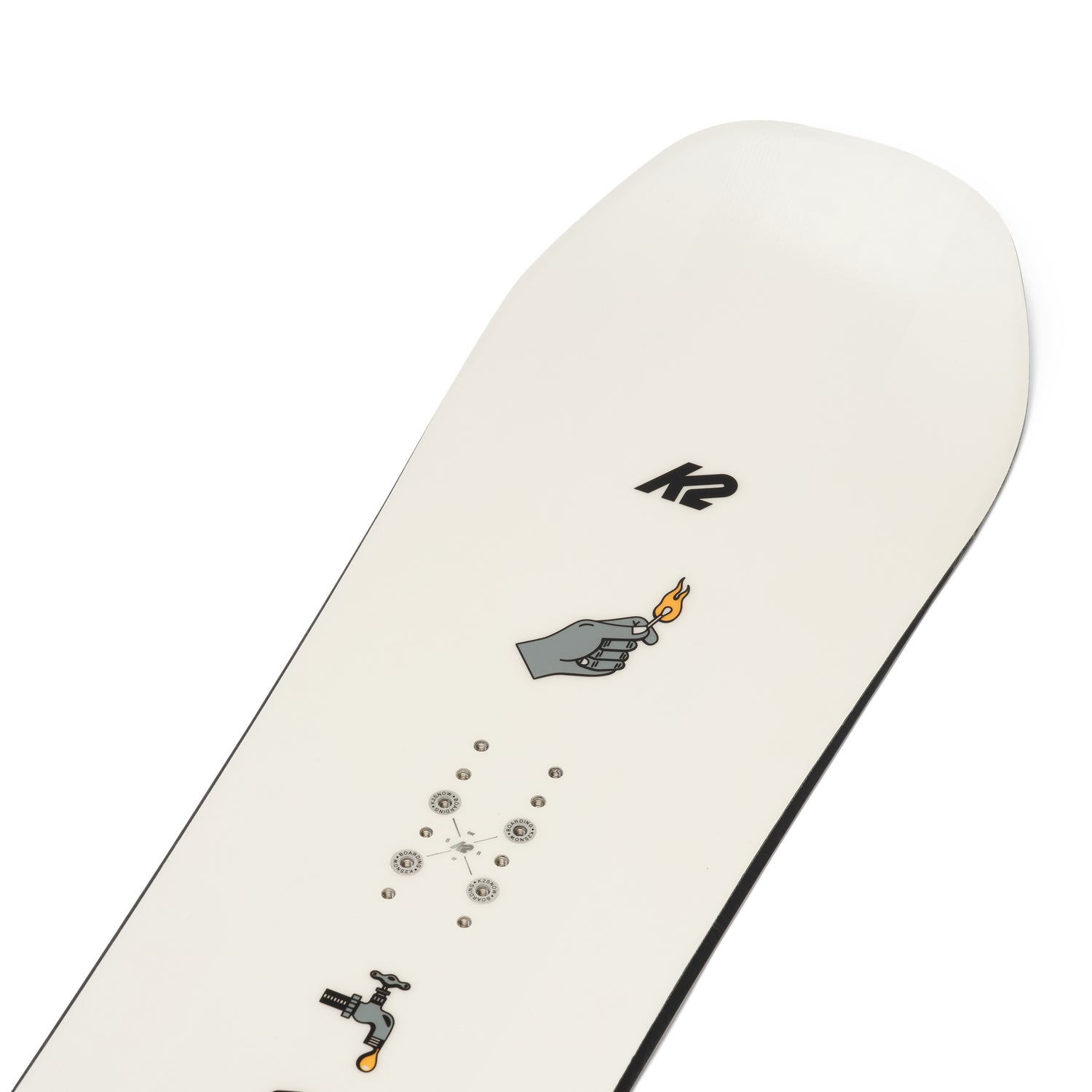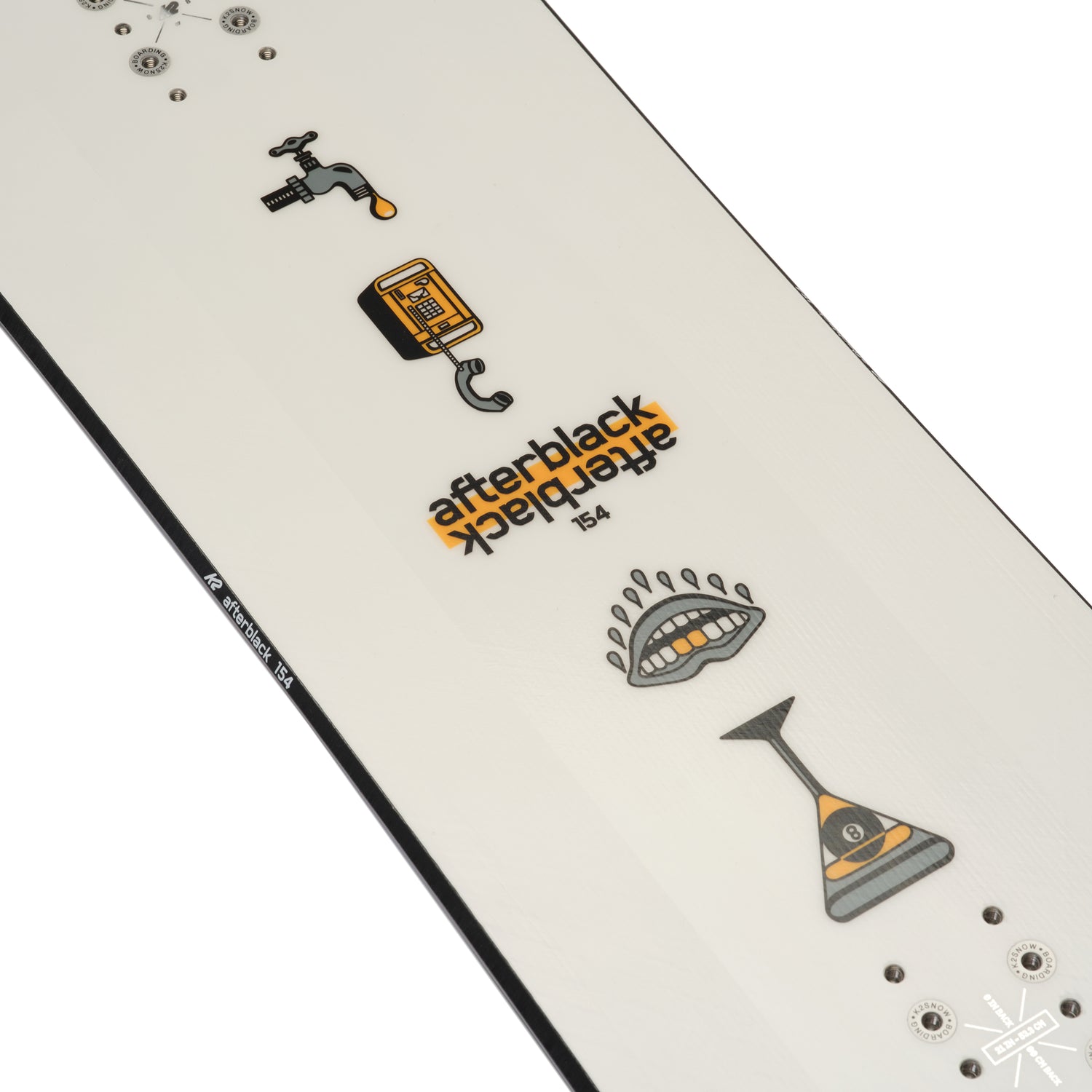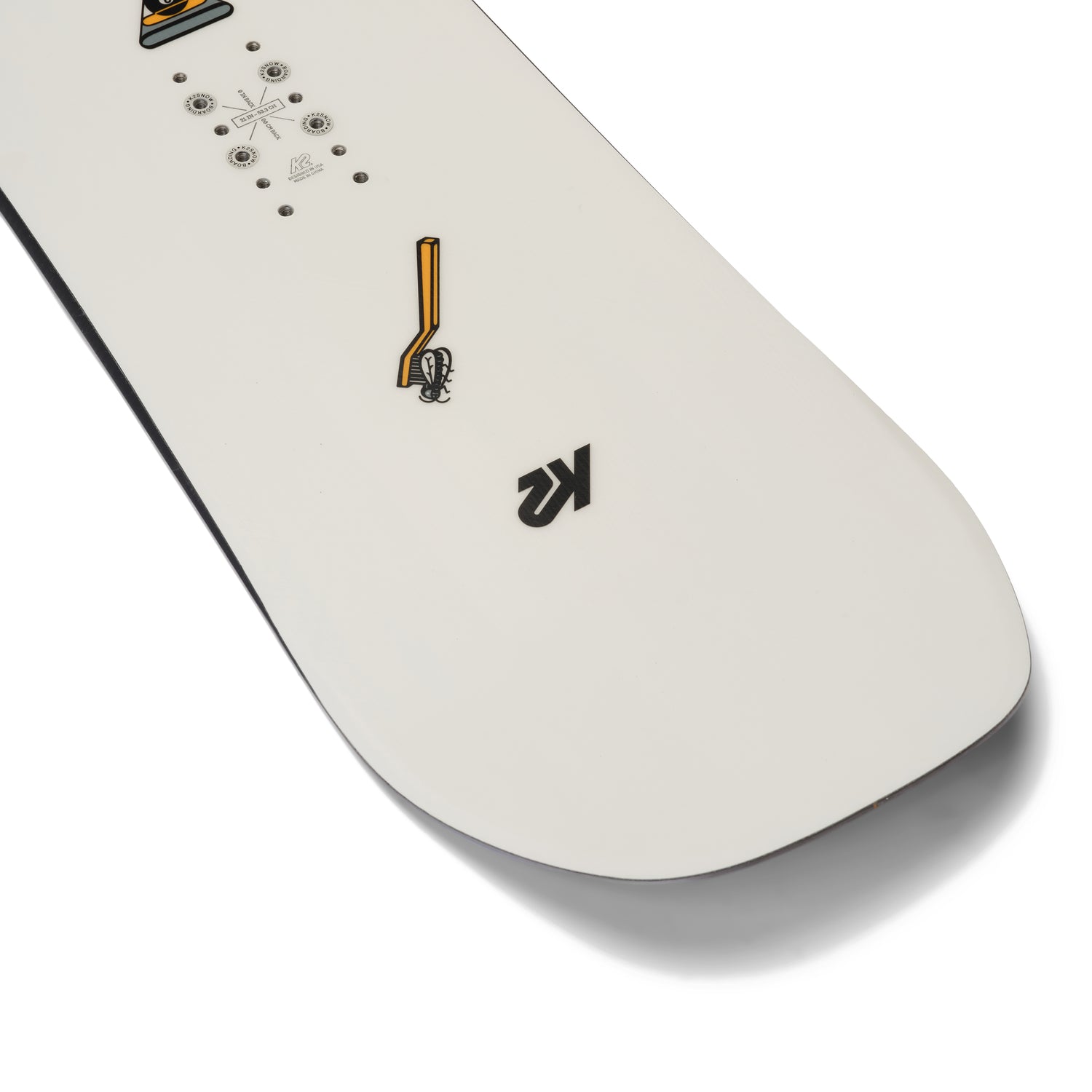 AFTERBLACK
Regular price
Sale price
€520.00
Unit price
per
Taking the strongest parts of it's previous existence and evolving, the all-new K2 Aterblack was engineered for serious durability with a focus on classic freestyle flex, and feel, with modern maneuverability.

We've taken a proven construction and design philosophy and listened to our team riders to bring together the all-new K2 Afterblack twin tip snowboard. Team riders Mark Wilson and Justin Phipps weighed in heavy on tip & tail shape, sidecut radius, blend zone, and camber profile. After rounds of testing on the hill and in the streets, we signed the dotted line on the second incarnation of the K2 Afterblack.

Designed for the intermediate-to-expert level snowboarder, the Afterblack is a mid-flexing true-twin with a Combination Camber Profile (with camber in between the bindings and rocker on the outside of the insiders) giving it a playful feel while still being able to hold speed and track straight into the next feature. Its tri-blend BAP Core blends bamboo, aspen, and paulownia woods to deliver snap and rebound while dampening vibration on the harshest landings. Wrapping the core, tip-to-tail triaxially woven fiberglass and Carbon Darkweb™ gives the Afterblack stability and edge control for popping off lips and sending big side hits.

We worked with Seattle-based artist Dane Nomellini on the graphic, pulling elements from things that happen deep into the night. Clean graphic, with a tip to tail runner, and a bold base graphic to make the logo pop in the videos and magazines.

BAP Core - A tri-blend wood core harnesses the rebound, strength, and feel of sustainably harvested Bamboo, Aspen, and Paulownia timber species.




Triax Glass - A fiberglass weave intersecting at three angles provides extra torsional stiffness and overall strength.

Carbon DarkWeb™ - Carbon stringers extend at 45º angles from the inserts in an "X" pattern, adding responsiveness and stability at all speeds.

Hybritech™ Sidewall Construction - A K2 exclusive. By transitioning from a P-Tex sidewall into a capped construction in the tip and tail of our snowboards, we can reduce waste while giving our snowboards better energy transfer and making them more durable than our competitors.

Sintered 4000 Base - Hard, fast, and durable, our Sintered Base material holds wax better than extruded materials increasing speed and glide.
SPEDITE NEL MIO PAESE?


Aggiungi articoli al carrello entra nel tuo carrello e vai al check out. Se il tuo paese è disponibile, potrai selezionarlo tra i paesi disponibili e calcolare anche il totale delle spedizioni. Se il tuo paese non è nell'elenco, al momento non è disponibile la spedizione.
Faremo di tutto per poter spedire anche nel tuo paese nel prossimo futuro!

QUALE CORRIERE USATE?
Spediamo con BRT / DPD perché il servizio e la tecnologia non sono secondi a nessuno. Le informazioni di tracciamento verranno inviate tramite e-mail all'indirizzo che ci hai fornito durante l'ordine, la mail partirà una volta che il pacco lascerà il nostro magazzino.
È richiesta la firma al momento della ricezione.

DEVO FIRMARE IL MIO PACCHETTO?
Sì, qualcuno dovrà essere al tuo indirizzo per firmare per il tuo pacco. BRT tenterà la consegna 2 volte e ti lascerà un biglietto da visita se non sei al tuo indirizzo quando tentano la consegna. Nel caso in cui il tuo pacco rientri a causa della mancanza di ricezione al tuo indirizzo, sarà addebitato il costo del reso.

QUANTO COSTANO LE SPEDIZIONI?
Offriamo diversi servizi e tariffe come indicato di seguito:


ITALIA


SPEDIZIONE ESPRESSA ENTRO 24H E 48H per le ISOLE MAGGIORI - 7,00€
Spedizione assicurata (Fortemente consigliata) - 16,00€
Ordine prioritario - 10,00€
Corriere espresso EUROPE DPD 2/5 giorni La tariffa viene calcolata alla cassa.


PAESI EXTRA UE
 
Corriere espresso DPD 3/5 giorni La tariffa viene calcolata alla cassa.
 
DEVO PAGARE IMPOSTE O ONERI DOGANALI?
Assicurati di essere a conoscenza della tassa di importazione e / o degli oneri doganali del tuo paese prima di ordinare da noi. Big Air Shop non è responsabile per eventuali tasse di importazione aggiuntive o oneri doganali emessi dall'ufficio d'importazione nazionale del tuo paese. I dazi doganali e le tasse variano da paese a paese e possono dipendere anche dal valore del tuo ordine.
 
POSSIBILI RITARDI DI SPEDIZIONE
Se il tuo ordine è esaurito, ti contatteremo via e-mail per avvisarti.
Se hai ulteriori domande, scrivici via e-mail a orders@bigairshop.com.
I nostri orari d'ufficio sono dal lunedì al venerdì 09 - 13
Recently viewed products
Continue where you left off!