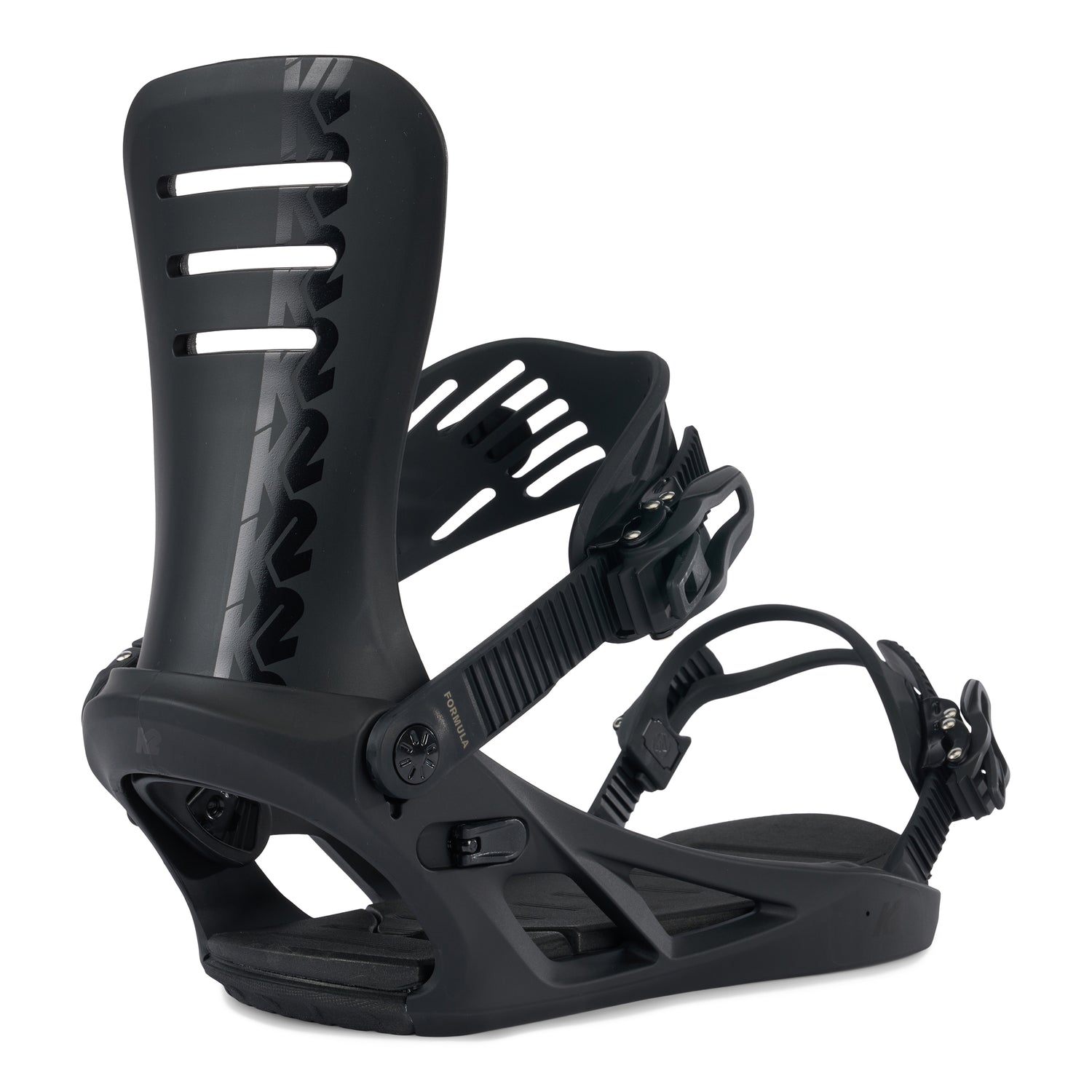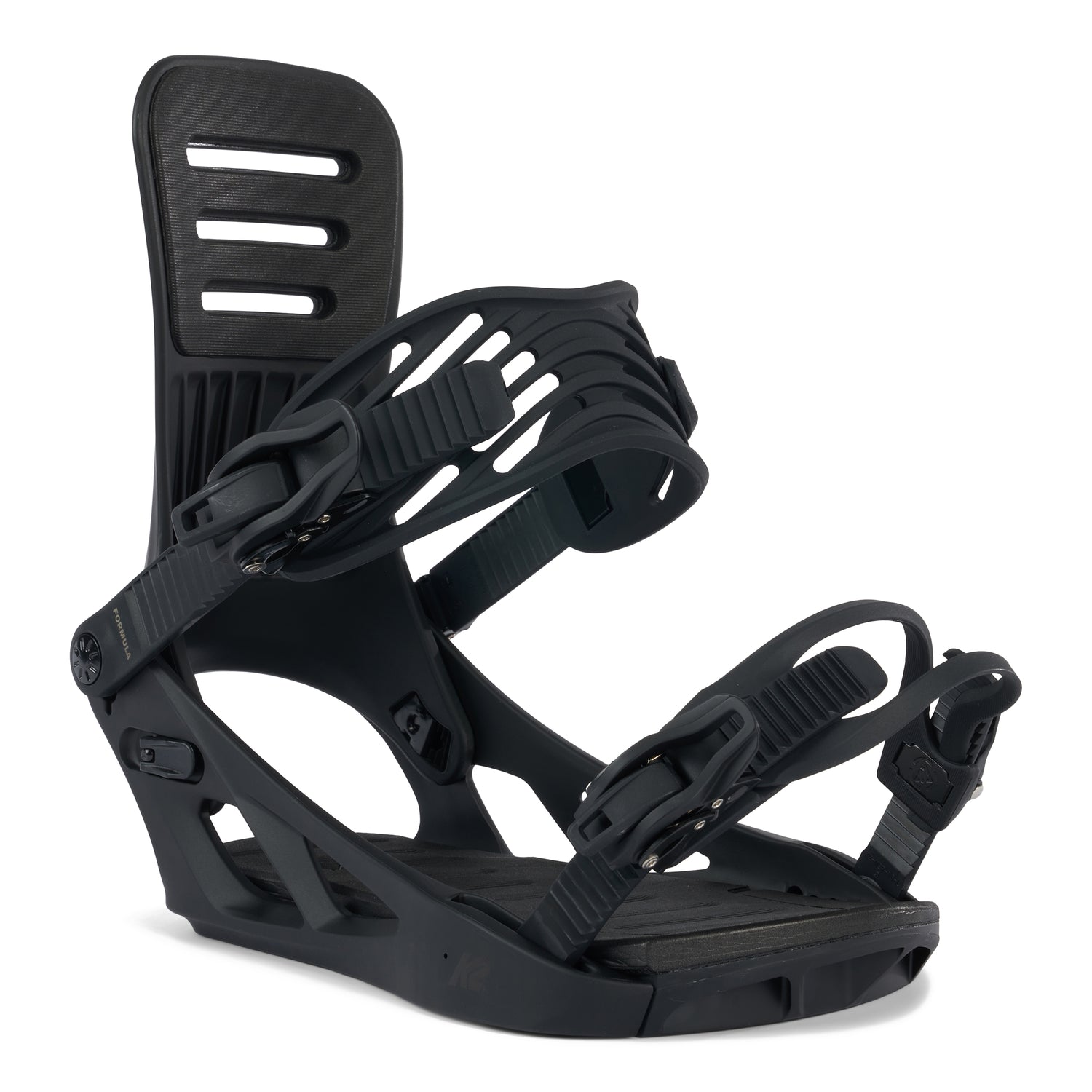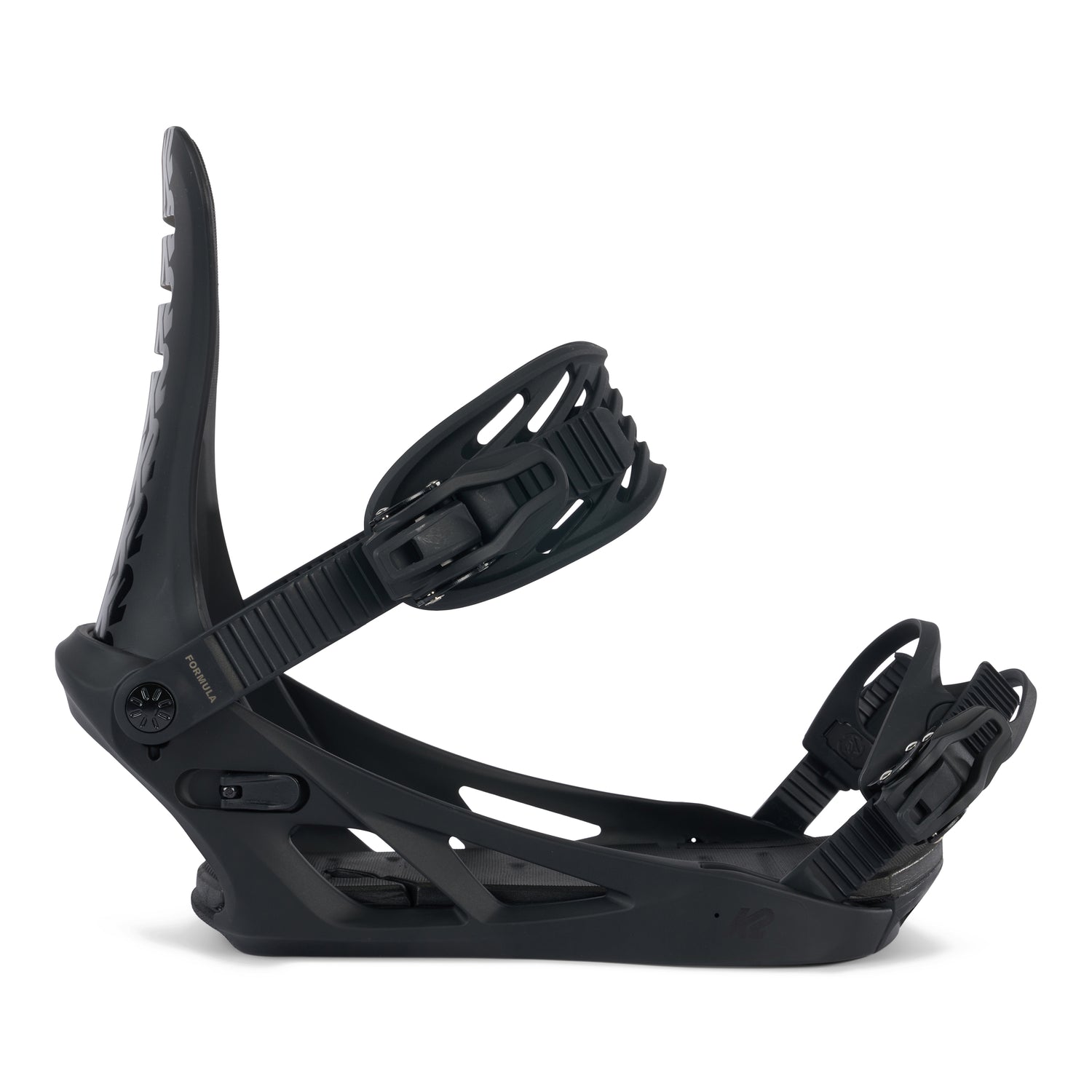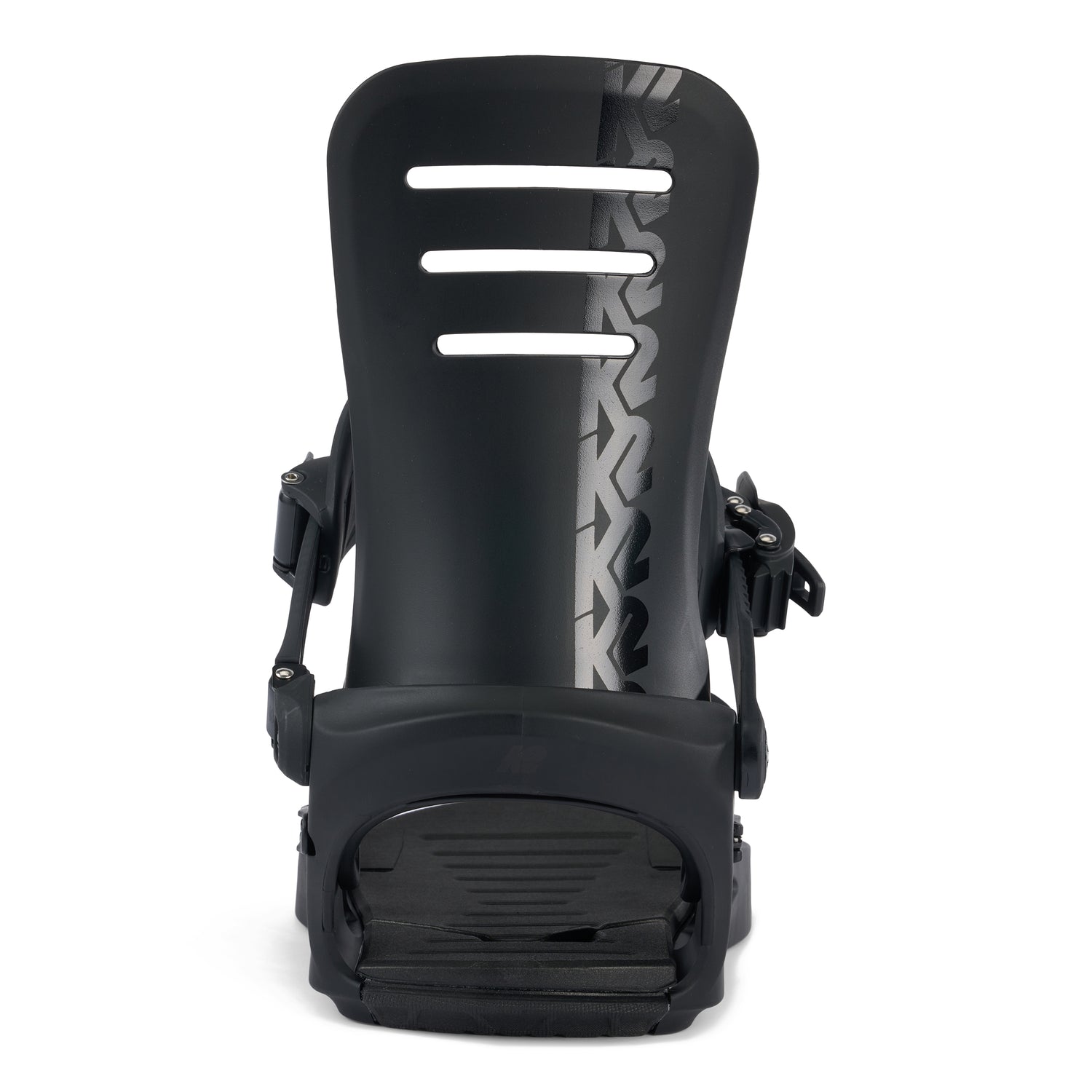 FORMULA BLACK
Regular price
Sale price
€260.00
Unit price
per
From the mad scientists in the K2 lab, the versatile K2 Formula snowboard binding is an all-mountain freestyle binding that isn't afraid to mix it up in the steeps, parks, or streets and is the preferred binding of global K2 pros and ams alike.

The Formula is built on our Profusion™ Chassis, a mid-to-stiff flexing fiberglass-filled-nylon construction that provides support and cushion for big tricks in the park and pointing it down spicy lines. The AT Nylon highback is responsive with just the right amount of flex and features our Gap Eraser™ forward lean adjustment to customize the response of your board. This forward lean technology allows your highback to have complete contact with your heel cup at any degree of forward lean. Complete contact equals full response.

The padless Bender™ ankle strap provides a supremely comfortable and secure feel when the consequences are high, and the PerfectFit™ 2.0 toe strap hinges to fit any snowboard boot toe profile for comfort and fast response. The Formula's Power Ramp is adjustable to evenly match the bottom of your boot outsole and combines with a 3º cant built directly into the chassis to create a natural riding position for big landings, solid take-offs, and even balance on all terrain.

Lastly, the aluminum ratchets are tough as hell and feature our integrated EZ Feed™ design and make strapping in quick and hassle-free.

GF Profusion™ Chassis - Integrated fiberglass materials combine with a classic shape to deliver a lightweight and rugged framework that is the go-to standard in the K2 binding collection.




AT Nylon Highback with Gap Eraser Forward Lean Adjustment - Stiff, durable, and temperature resistant nylon provide maximum responsiveness and support. Customize your forward lean without the need for tools or a traditional forward lean block.

Bender™ Ankle Strap - A low-profile, padless, and highly flexible injection-molded ankle strap built to optimize freestyle mobility.

Perfect Fit™ 2.0 Toe Strap - Patented toe strap technology uses flexible hinges and lock levers to custom fit the toe strap to any snowboard boot silhouette.

3º Canted Footbed - 3º of inward canting in the footbed places the rider in a natural riding position.

100% Tool-Less Adjustment - Once mounted to your board, all strap and highback adjustments can be made on-the-fly without screwdrivers or other tools.
SPEDITE NEL MIO PAESE?


Aggiungi articoli al carrello entra nel tuo carrello e vai al check out. Se il tuo paese è disponibile, potrai selezionarlo tra i paesi disponibili e calcolare anche il totale delle spedizioni. Se il tuo paese non è nell'elenco, al momento non è disponibile la spedizione.
Faremo di tutto per poter spedire anche nel tuo paese nel prossimo futuro!

QUALE CORRIERE USATE?
Spediamo con BRT / DPD perché il servizio e la tecnologia non sono secondi a nessuno. Le informazioni di tracciamento verranno inviate tramite e-mail all'indirizzo che ci hai fornito durante l'ordine, la mail partirà una volta che il pacco lascerà il nostro magazzino.
È richiesta la firma al momento della ricezione.

DEVO FIRMARE IL MIO PACCHETTO?
Sì, qualcuno dovrà essere al tuo indirizzo per firmare per il tuo pacco. BRT tenterà la consegna 2 volte e ti lascerà un biglietto da visita se non sei al tuo indirizzo quando tentano la consegna. Nel caso in cui il tuo pacco rientri a causa della mancanza di ricezione al tuo indirizzo, sarà addebitato il costo del reso.

QUANTO COSTANO LE SPEDIZIONI?
Offriamo diversi servizi e tariffe come indicato di seguito:


ITALIA


SPEDIZIONE ESPRESSA ENTRO 24H E 48H per le ISOLE MAGGIORI - 7,00€
Spedizione assicurata (Fortemente consigliata) - 16,00€
Ordine prioritario - 10,00€
Corriere espresso EUROPE DPD 2/5 giorni La tariffa viene calcolata alla cassa.


PAESI EXTRA UE
 
Corriere espresso DPD 3/5 giorni La tariffa viene calcolata alla cassa.
 
DEVO PAGARE IMPOSTE O ONERI DOGANALI?
Assicurati di essere a conoscenza della tassa di importazione e / o degli oneri doganali del tuo paese prima di ordinare da noi. Big Air Shop non è responsabile per eventuali tasse di importazione aggiuntive o oneri doganali emessi dall'ufficio d'importazione nazionale del tuo paese. I dazi doganali e le tasse variano da paese a paese e possono dipendere anche dal valore del tuo ordine.
 
POSSIBILI RITARDI DI SPEDIZIONE
Se il tuo ordine è esaurito, ti contatteremo via e-mail per avvisarti.
Se hai ulteriori domande, scrivici via e-mail a orders@bigairshop.com.
I nostri orari d'ufficio sono dal lunedì al venerdì 09 - 13
Recently viewed products
Continue where you left off!