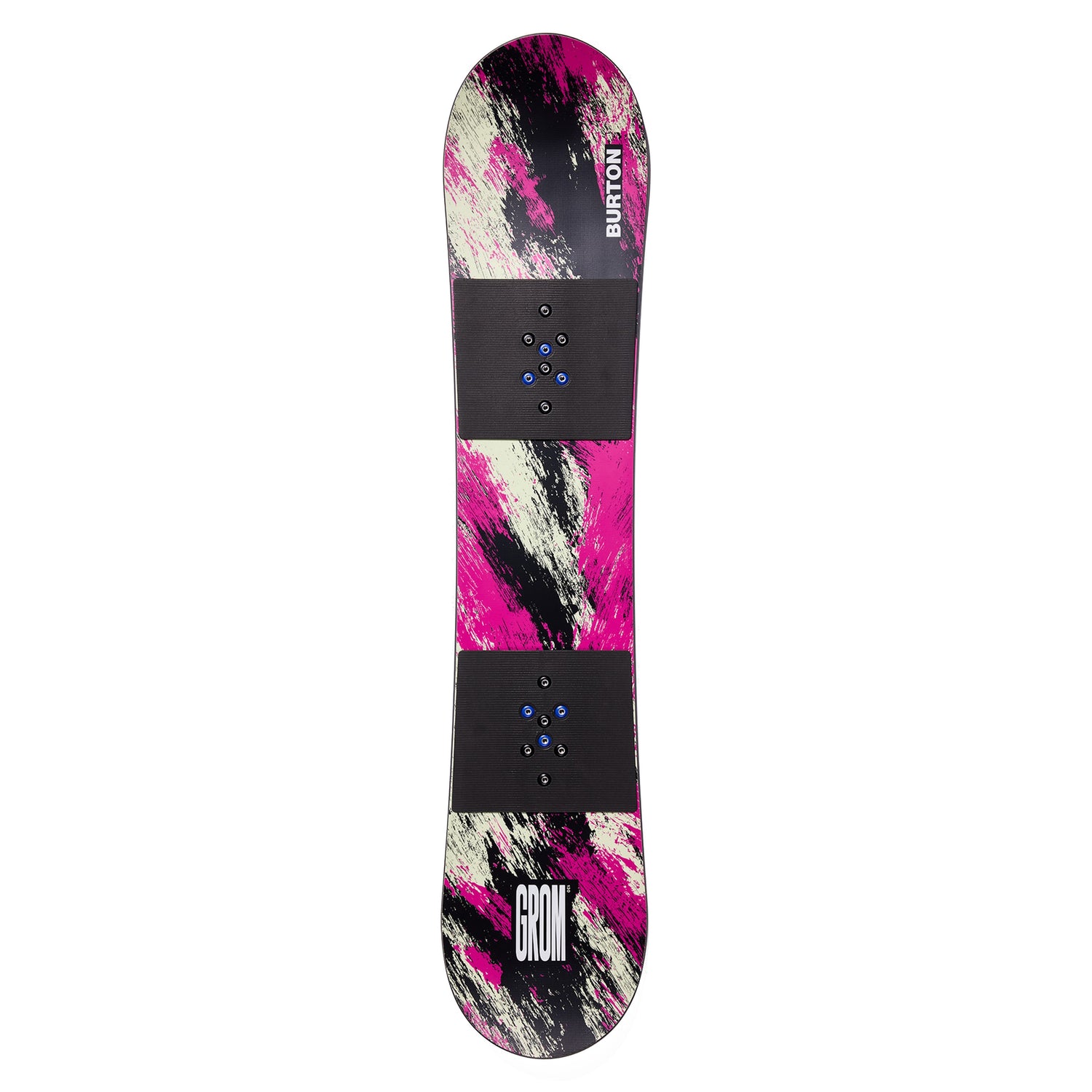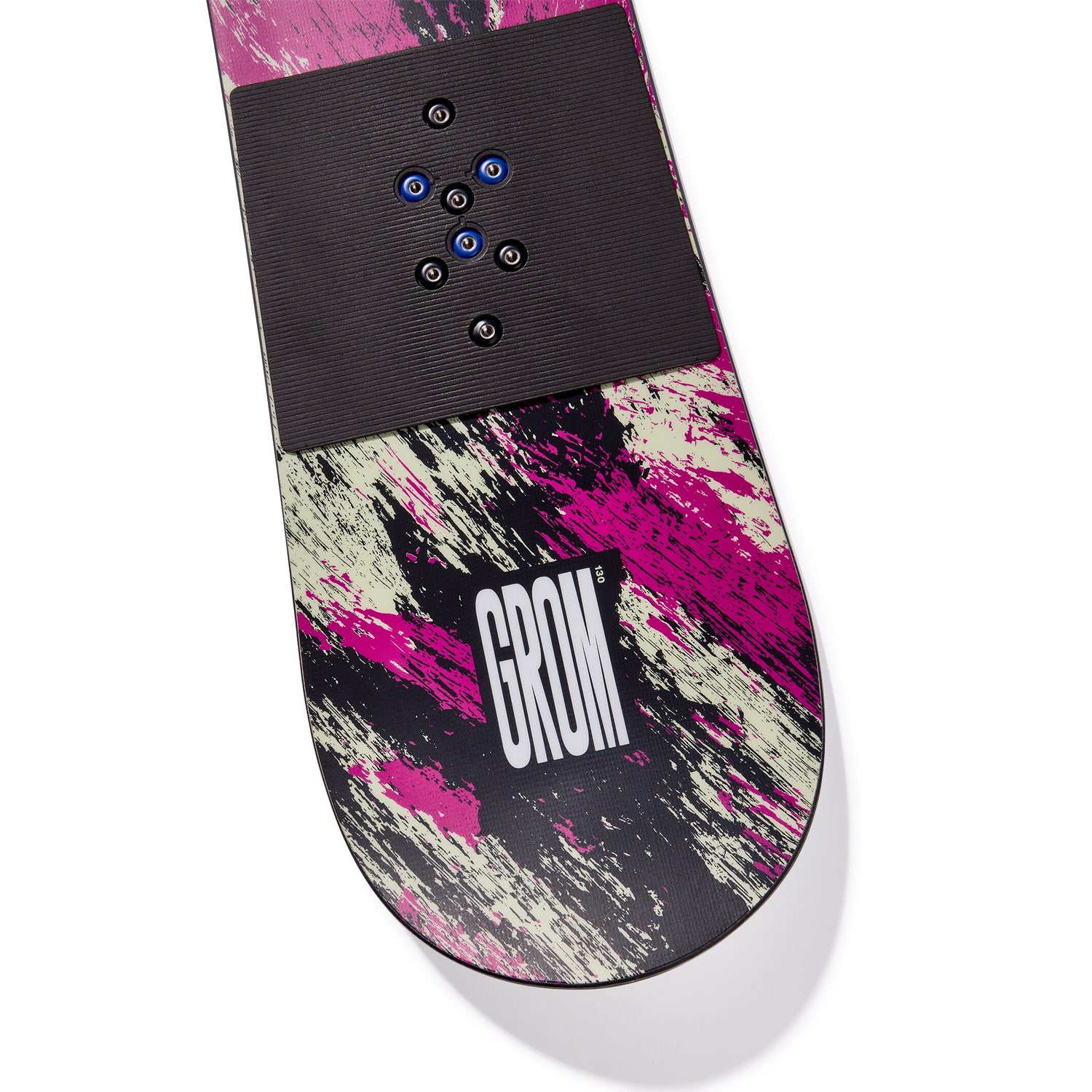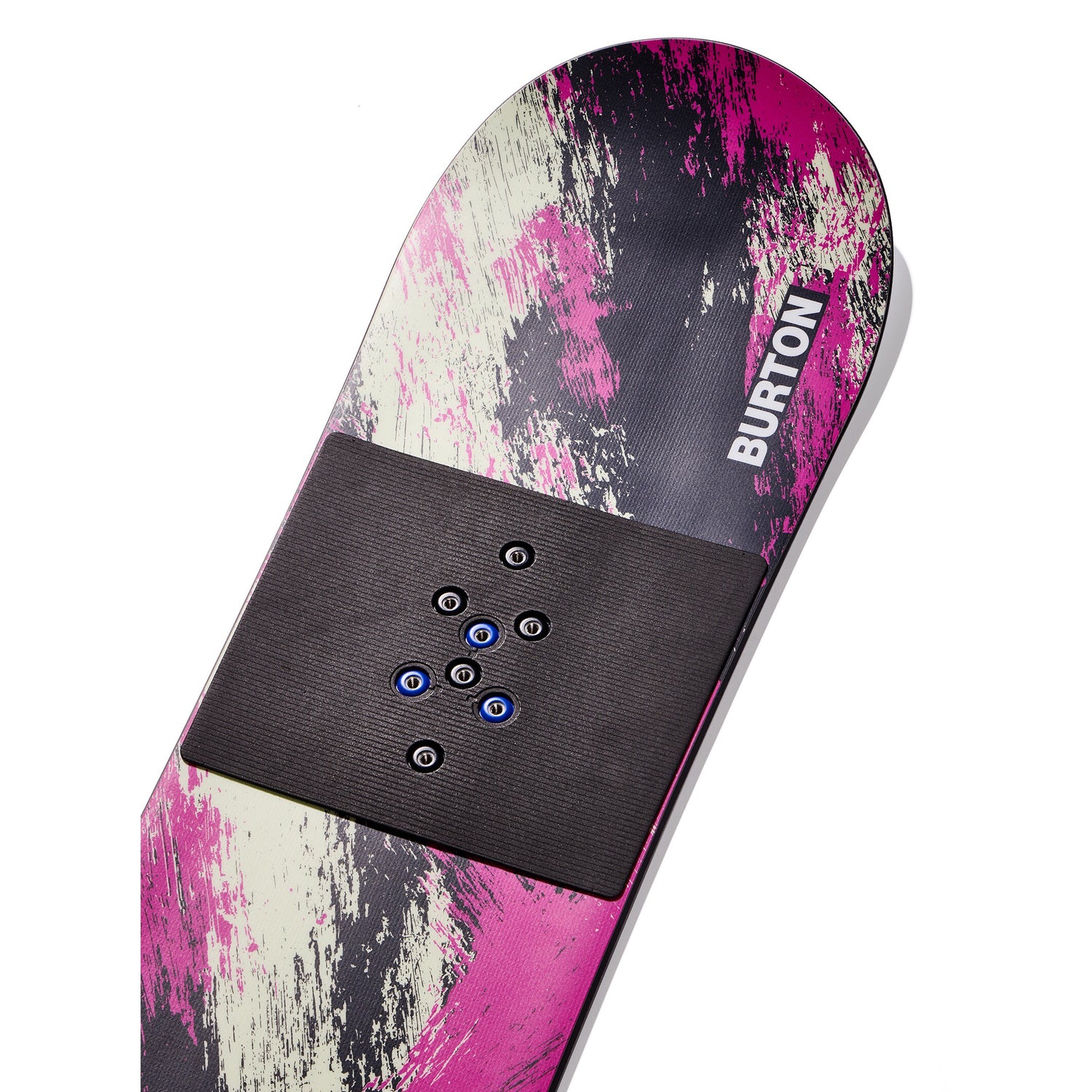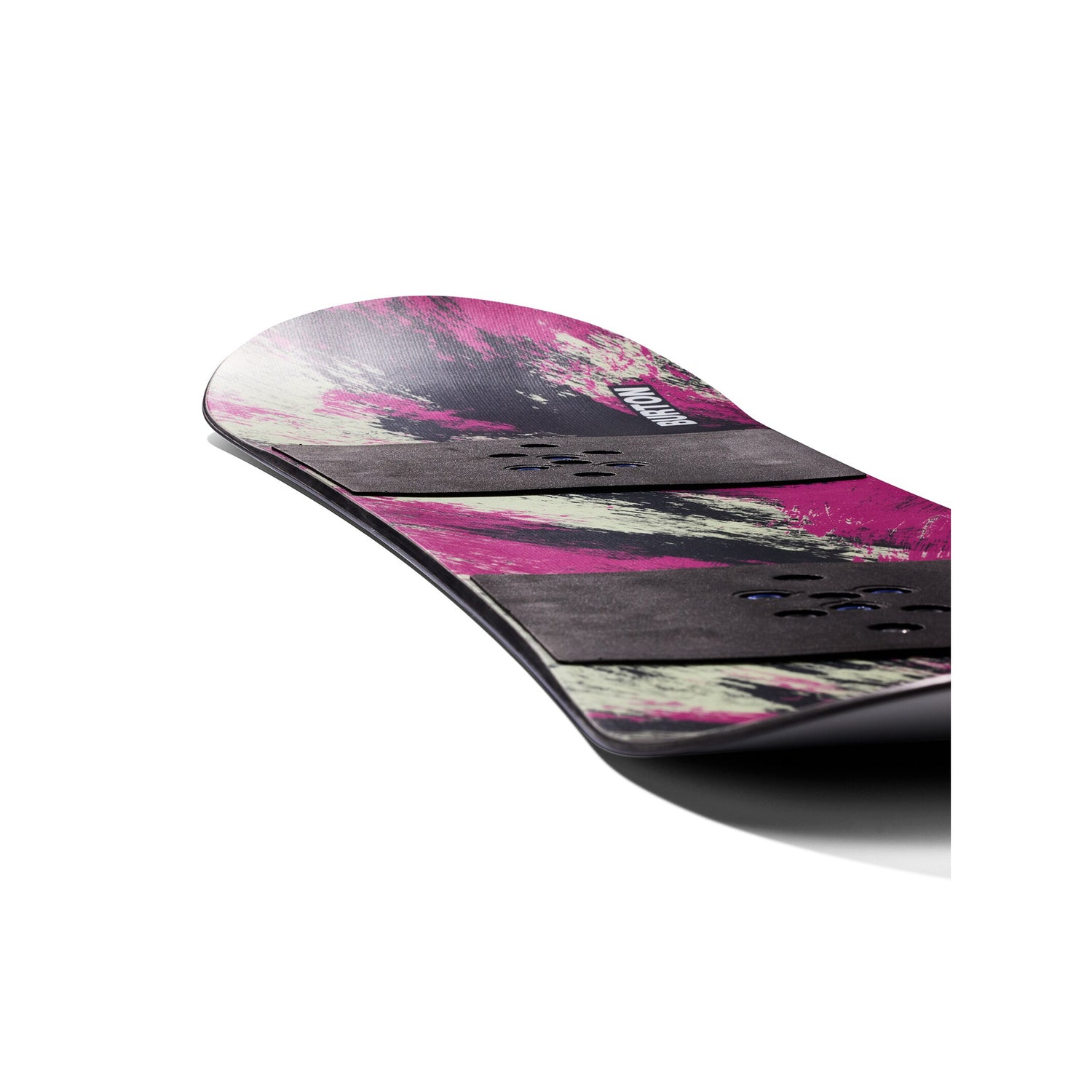 GROM PURPLE / TEAL
Regular price
Sale price
€230.00
Unit price
per
Our most kid-friendly board makes learning to link turns easier than finishing your lima beans.
Formerly known as the Chopper or Chicklet, the kids' Burton Grom Snowboard is all about getting kids up and riding. The beginner-friendly combo of a convex base with upturned edges and soft flex suited to kids means that even lightweight riders can get the board turning and stopping. The catch-free feeling continues with a flat profile from nose to tail that's extra stable for easier balance and board control.
Twin Shape is perfectly symmetrical for a balanced ride so you can spin and stomp with outstanding stability whether you're riding regular or switch

Flat Top Bend provides stability, balance, and continuous edge control helping the tip and tail kick up for a catch-free and loose riding experience

Easy Bevel gives riders a soft and forgiving board with super soft flex and a convex base that lifts the edges off the snow, making it virtually impossible to catch an edge

Twin Flex is perfectly symmetrical from tip to tail for a balanced ride that's equally versatile regular or switch

Fly Core is a classic tip-to-tail wood core that lightens the load without sacrificing flex, pop, or strength

Biax Fiberglass features a jib-friendly, torsionally-soft flex and a forgiving feel that's great for beginning riders or the park

Extruded Base provides speed and strength and requires little in the way of maintenance
SPEDITE NEL MIO PAESE?


Aggiungi articoli al carrello entra nel tuo carrello e vai al check out. Se il tuo paese è disponibile, potrai selezionarlo tra i paesi disponibili e calcolare anche il totale delle spedizioni. Se il tuo paese non è nell'elenco, al momento non è disponibile la spedizione.
Faremo di tutto per poter spedire anche nel tuo paese nel prossimo futuro!

QUALE CORRIERE USATE?
Spediamo con BRT / DPD perché il servizio e la tecnologia non sono secondi a nessuno. Le informazioni di tracciamento verranno inviate tramite e-mail all'indirizzo che ci hai fornito durante l'ordine, la mail partirà una volta che il pacco lascerà il nostro magazzino.
È richiesta la firma al momento della ricezione.

DEVO FIRMARE IL MIO PACCHETTO?
Sì, qualcuno dovrà essere al tuo indirizzo per firmare per il tuo pacco. BRT tenterà la consegna 2 volte e ti lascerà un biglietto da visita se non sei al tuo indirizzo quando tentano la consegna. Nel caso in cui il tuo pacco rientri a causa della mancanza di ricezione al tuo indirizzo, sarà addebitato il costo del reso.

QUANTO COSTANO LE SPEDIZIONI?
Offriamo diversi servizi e tariffe come indicato di seguito:


ITALIA


SPEDIZIONE ESPRESSA ENTRO 24H E 48H per le ISOLE MAGGIORI - 7,00€
Spedizione assicurata (Fortemente consigliata) - 16,00€
Ordine prioritario - 10,00€
Corriere espresso EUROPE DPD 2/5 giorni La tariffa viene calcolata alla cassa.


PAESI EXTRA UE
 
Corriere espresso DPD 3/5 giorni La tariffa viene calcolata alla cassa.
 
DEVO PAGARE IMPOSTE O ONERI DOGANALI?
Assicurati di essere a conoscenza della tassa di importazione e / o degli oneri doganali del tuo paese prima di ordinare da noi. Big Air Shop non è responsabile per eventuali tasse di importazione aggiuntive o oneri doganali emessi dall'ufficio d'importazione nazionale del tuo paese. I dazi doganali e le tasse variano da paese a paese e possono dipendere anche dal valore del tuo ordine.
 
POSSIBILI RITARDI DI SPEDIZIONE
Se il tuo ordine è esaurito, ti contatteremo via e-mail per avvisarti.
Se hai ulteriori domande, scrivici via e-mail a orders@bigairshop.com.
I nostri orari d'ufficio sono dal lunedì al venerdì 09 - 13
Recently viewed products
Continue where you left off!