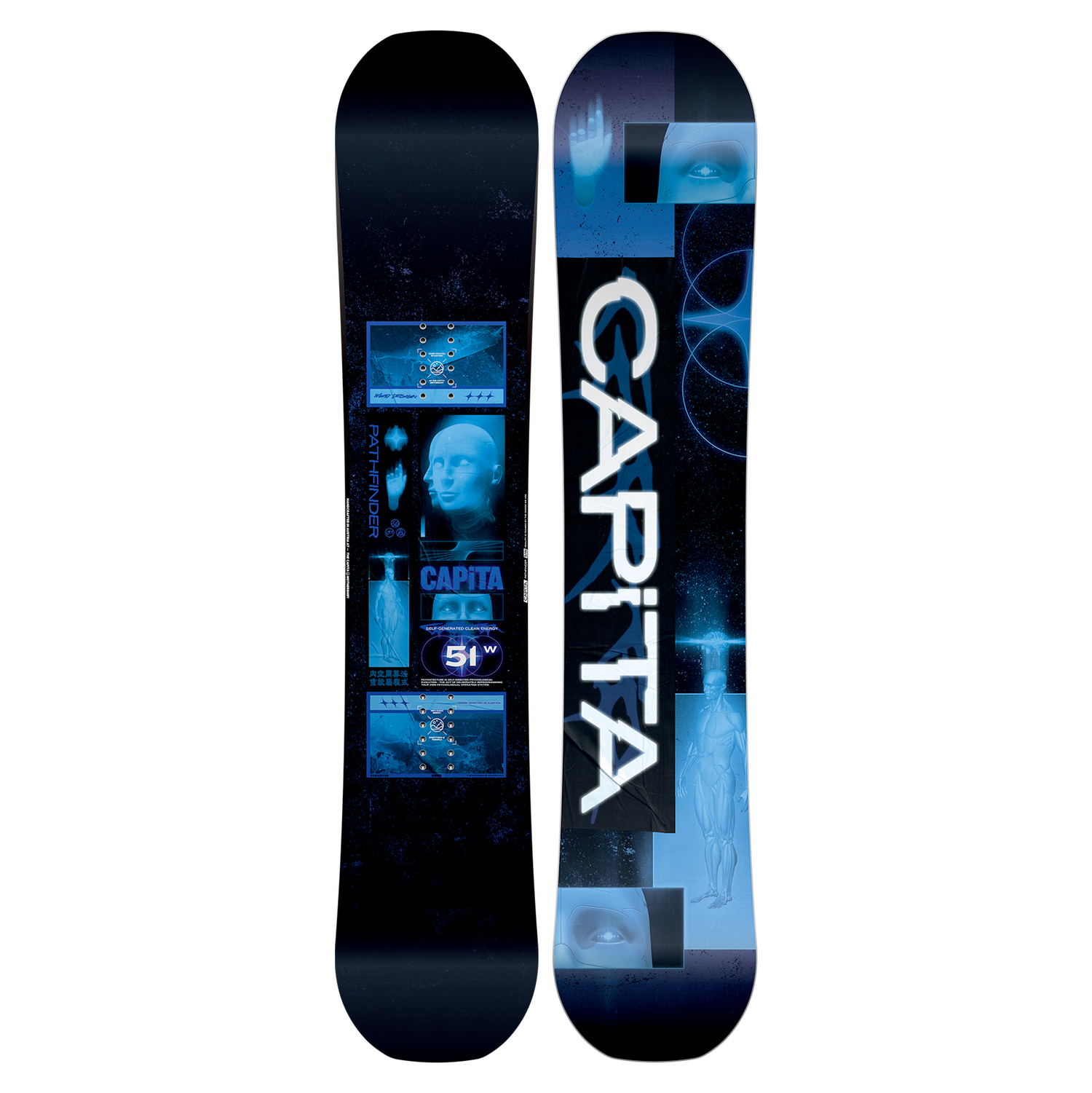 PATHFINDER WIDE REVERSE
Regular price
Sale price
€429.00
Unit price
per
PATHFINDER CAMBER
The Pathfinder is a must-have deck for your resort quiver. It is fun, maneuverable, easy to ride, and capable of big things. Offered in both low-rise camber for carving and ollie power and a reverse camber option for a more loose and skate-style feel, there is a choice for all riders looking for a board with a performance pedigree at a modest price. The Pathfinder has proven itself as one of the best consumer buys in the game, featuring a throwback blunted shape with a shorter tip and tail for decreased swing weight and a time-tested, lightweight, and durable construction configuration.
The Pathfinder Camber option provides enhanced ollie power and edge retention for high-speed carving via an elongated camber profile. These boards shine on jumps, jibs, transitions and are a value-packed option for your next freestyle and park focused resort board.
PARK V1 + FLAT KICK TECH
The PARK V1 camber configuration zeros out a traditional camber approach 4cm before the end of the sidecut. The small zero camber sections provide a more controlled ride while retaining the response and power of a cambered board.
SHAPE:
DIRECTIONAL TWIN 0.5­" SET BACK
SPEDITE NEL MIO PAESE?


Aggiungi articoli al carrello entra nel tuo carrello e vai al check out. Se il tuo paese è disponibile, potrai selezionarlo tra i paesi disponibili e calcolare anche il totale delle spedizioni. Se il tuo paese non è nell'elenco, al momento non è disponibile la spedizione.
Faremo di tutto per poter spedire anche nel tuo paese nel prossimo futuro!

QUALE CORRIERE USATE?
Spediamo con BRT / DPD perché il servizio e la tecnologia non sono secondi a nessuno. Le informazioni di tracciamento verranno inviate tramite e-mail all'indirizzo che ci hai fornito durante l'ordine, la mail partirà una volta che il pacco lascerà il nostro magazzino.
È richiesta la firma al momento della ricezione.

DEVO FIRMARE IL MIO PACCHETTO?
Sì, qualcuno dovrà essere al tuo indirizzo per firmare per il tuo pacco. BRT tenterà la consegna 2 volte e ti lascerà un biglietto da visita se non sei al tuo indirizzo quando tentano la consegna. Nel caso in cui il tuo pacco rientri a causa della mancanza di ricezione al tuo indirizzo, sarà addebitato il costo del reso.

QUANTO COSTANO LE SPEDIZIONI?
Offriamo diversi servizi e tariffe come indicato di seguito:


ITALIA


SPEDIZIONE ESPRESSA ENTRO 24H E 48H per le ISOLE MAGGIORI - 7,00€
Spedizione assicurata (Fortemente consigliata) - 16,00€
Ordine prioritario - 10,00€
Corriere espresso EUROPE DPD 2/5 giorni La tariffa viene calcolata alla cassa.


PAESI EXTRA UE
 
Corriere espresso DPD 3/5 giorni La tariffa viene calcolata alla cassa.
 
DEVO PAGARE IMPOSTE O ONERI DOGANALI?
Assicurati di essere a conoscenza della tassa di importazione e / o degli oneri doganali del tuo paese prima di ordinare da noi. Big Air Shop non è responsabile per eventuali tasse di importazione aggiuntive o oneri doganali emessi dall'ufficio d'importazione nazionale del tuo paese. I dazi doganali e le tasse variano da paese a paese e possono dipendere anche dal valore del tuo ordine.
 
POSSIBILI RITARDI DI SPEDIZIONE
Se il tuo ordine è esaurito, ti contatteremo via e-mail per avvisarti.
Se hai ulteriori domande, scrivici via e-mail a orders@bigairshop.com.
I nostri orari d'ufficio sono dal lunedì al venerdì 09 - 13
Recently viewed products
Continue where you left off!