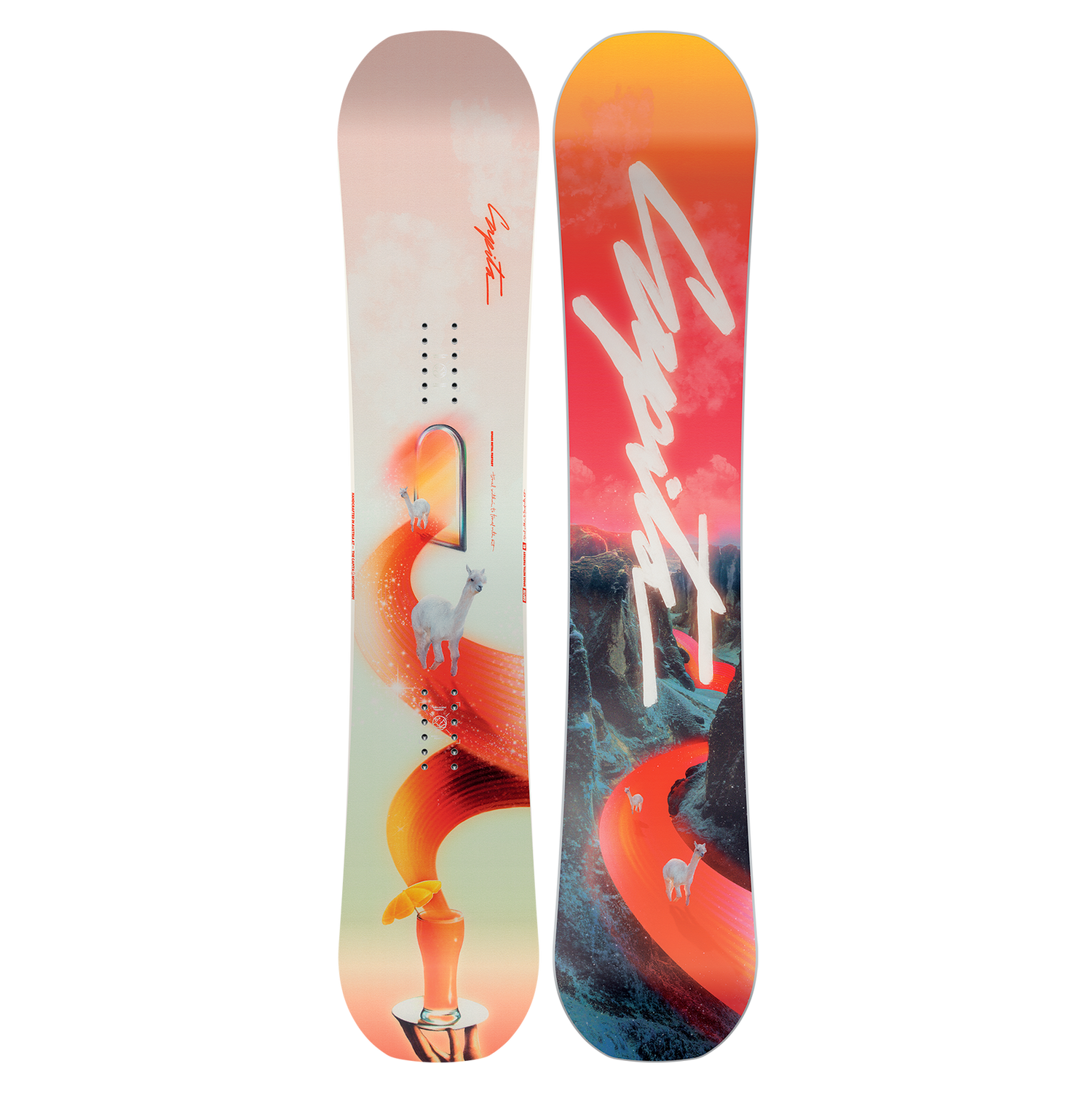 SPACE METAL FANTASY
Regular price
Sale price
€429.00
Unit price
per
SPACE METAL FANTASY
The five-time Transworld Good Wood Award-winning Space Metal Fantasy is widely regarded as one of the best women's park boards on the market. However, to be fair, labeling it as a park board severely understates its potential.
We present this as a park series for classification purposes, but in truth, it's much more than that. The Space Metal Fantasy is fun for carving around the slopes, playing on features in the park, and even floats ridiculously well in powder. This very forgiving reverse camber shape provides a fun experience for beginner to intermediate riders looking to expedite the learning curve and take their riding to the next level on many different types of terrain. The S.M.F. is a vehicle for progression and can excel in any riding environment without breaking the bank.
PARK V2
These versatile boards feature a dual reverse camber Flat Kick freestyle shape. A zero camber section throughout the insert area provides a stable skate-style feel, while elevated contact points turn on a dime and float e ortlessly in powder.
SPEDITE NEL MIO PAESE?


Aggiungi articoli al carrello entra nel tuo carrello e vai al check out. Se il tuo paese è disponibile, potrai selezionarlo tra i paesi disponibili e calcolare anche il totale delle spedizioni. Se il tuo paese non è nell'elenco, al momento non è disponibile la spedizione.
Faremo di tutto per poter spedire anche nel tuo paese nel prossimo futuro!

QUALE CORRIERE USATE?
Spediamo con BRT / DPD perché il servizio e la tecnologia non sono secondi a nessuno. Le informazioni di tracciamento verranno inviate tramite e-mail all'indirizzo che ci hai fornito durante l'ordine, la mail partirà una volta che il pacco lascerà il nostro magazzino.
È richiesta la firma al momento della ricezione.

DEVO FIRMARE IL MIO PACCHETTO?
Sì, qualcuno dovrà essere al tuo indirizzo per firmare per il tuo pacco. BRT tenterà la consegna 2 volte e ti lascerà un biglietto da visita se non sei al tuo indirizzo quando tentano la consegna. Nel caso in cui il tuo pacco rientri a causa della mancanza di ricezione al tuo indirizzo, sarà addebitato il costo del reso.

QUANTO COSTANO LE SPEDIZIONI?
Offriamo diversi servizi e tariffe come indicato di seguito:


ITALIA


SPEDIZIONE ESPRESSA ENTRO 24H E 48H per le ISOLE MAGGIORI - 7,00€
Spedizione assicurata (Fortemente consigliata) - 16,00€
Ordine prioritario - 10,00€
Corriere espresso EUROPE DPD 2/5 giorni La tariffa viene calcolata alla cassa.


PAESI EXTRA UE
 
Corriere espresso DPD 3/5 giorni La tariffa viene calcolata alla cassa.
 
DEVO PAGARE IMPOSTE O ONERI DOGANALI?
Assicurati di essere a conoscenza della tassa di importazione e / o degli oneri doganali del tuo paese prima di ordinare da noi. Big Air Shop non è responsabile per eventuali tasse di importazione aggiuntive o oneri doganali emessi dall'ufficio d'importazione nazionale del tuo paese. I dazi doganali e le tasse variano da paese a paese e possono dipendere anche dal valore del tuo ordine.
 
POSSIBILI RITARDI DI SPEDIZIONE
Se il tuo ordine è esaurito, ti contatteremo via e-mail per avvisarti.
Se hai ulteriori domande, scrivici via e-mail a orders@bigairshop.com.
I nostri orari d'ufficio sono dal lunedì al venerdì 09 - 13
Recently viewed products
Continue where you left off!