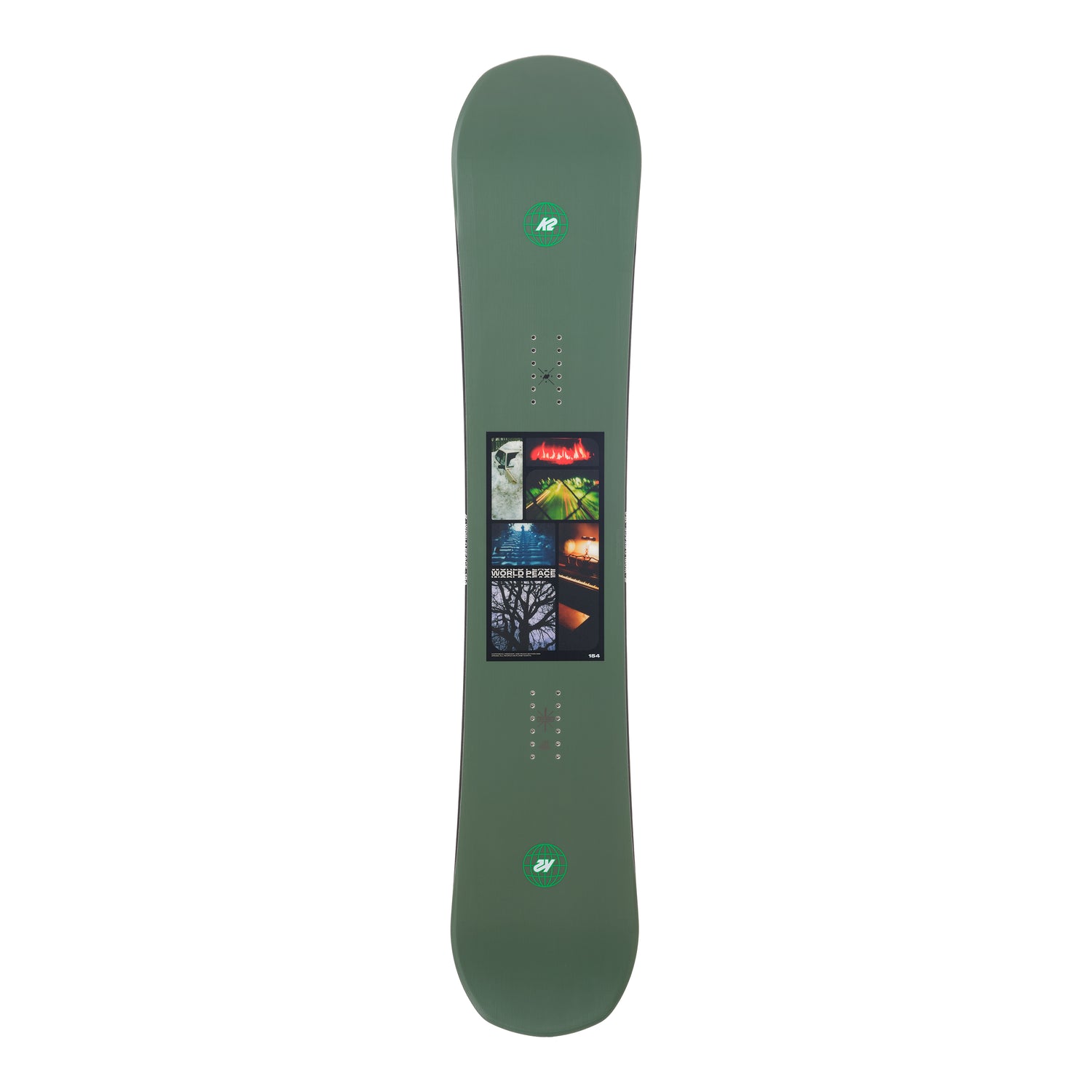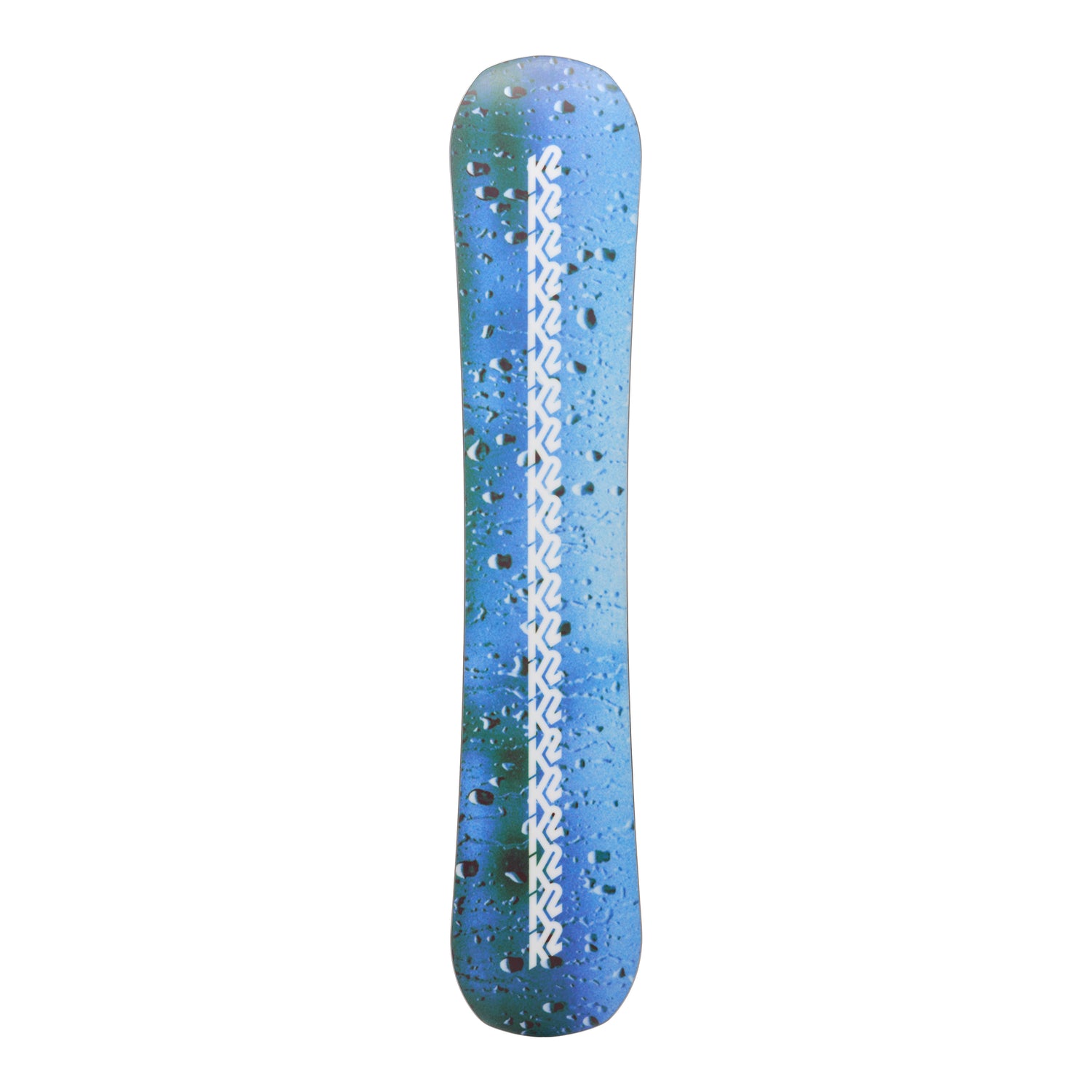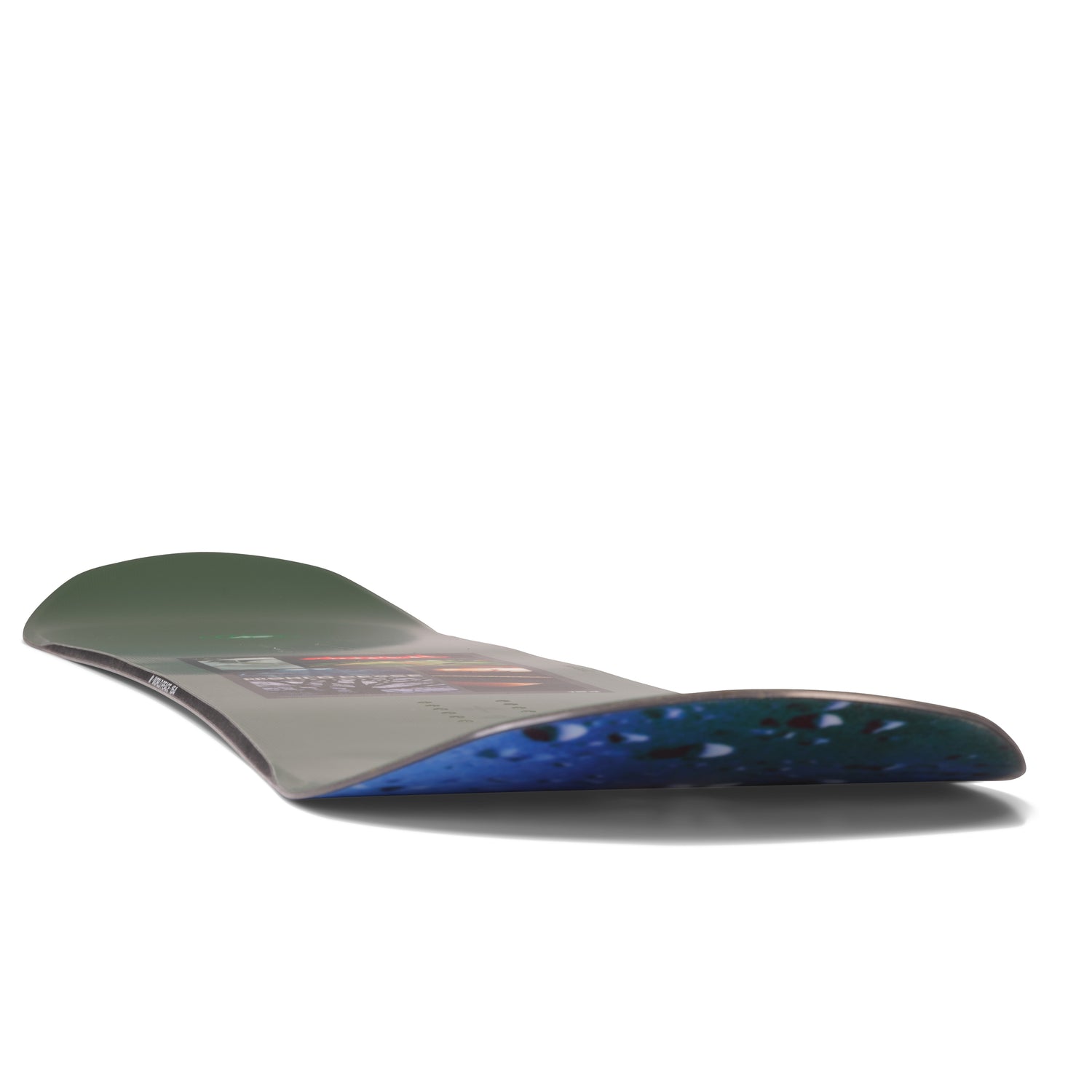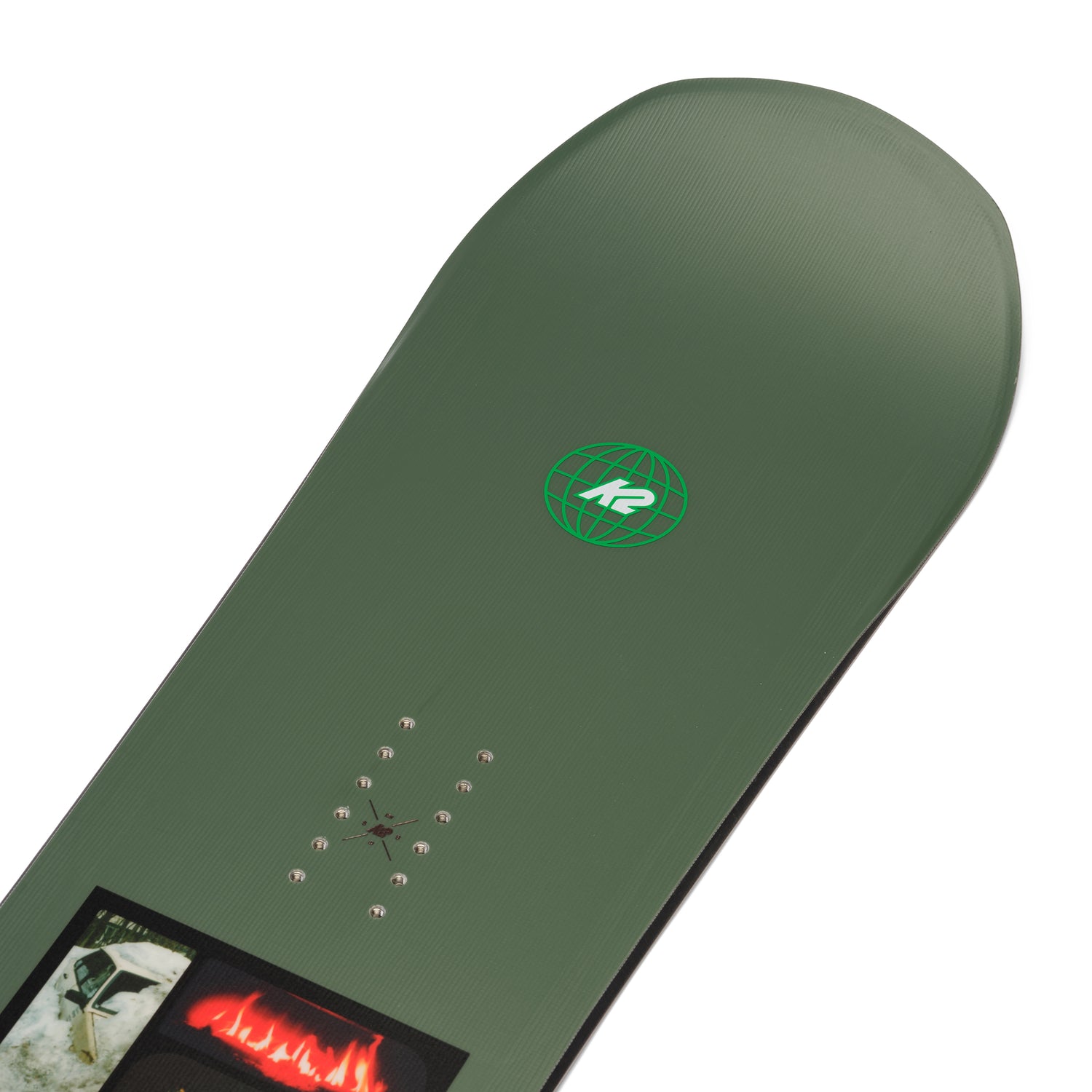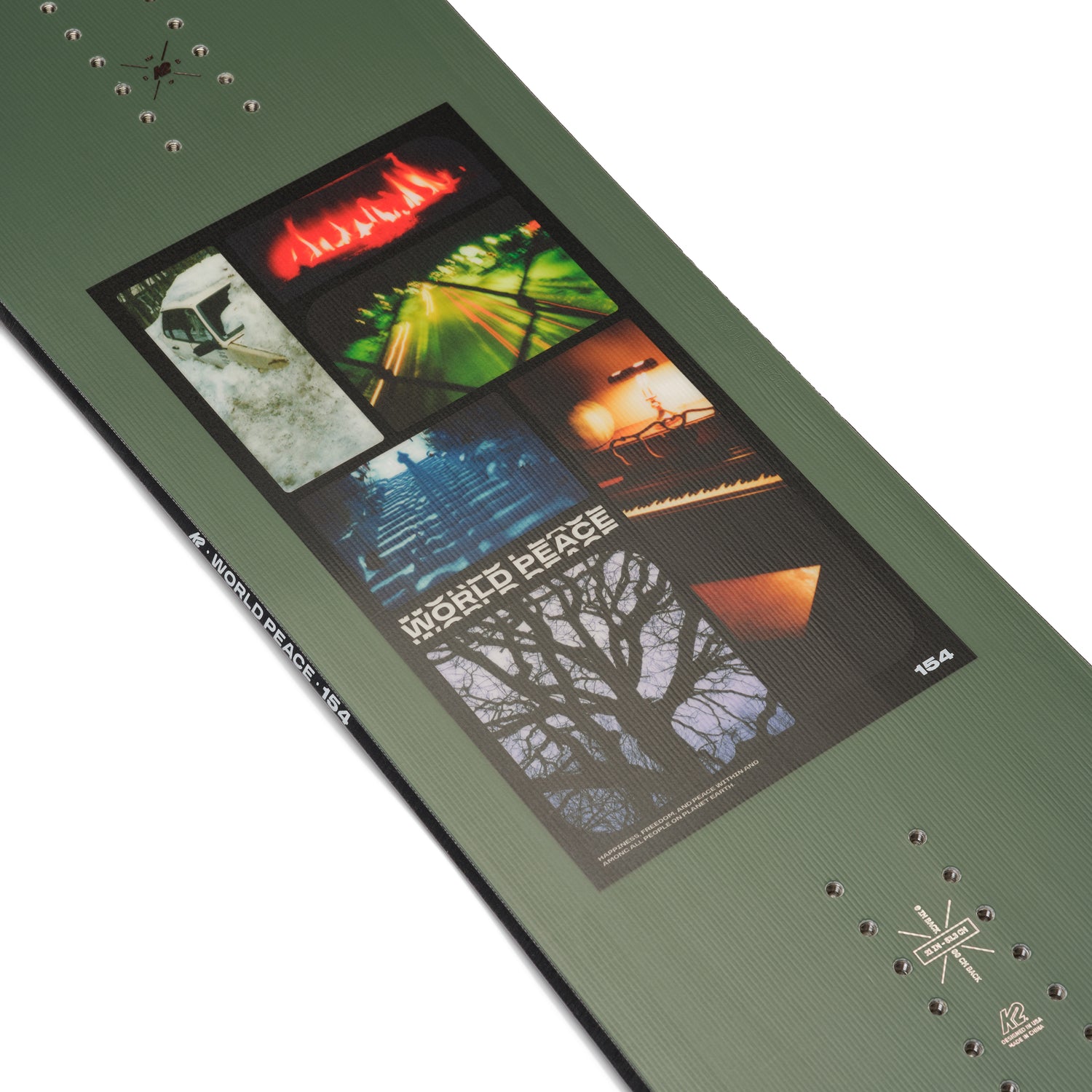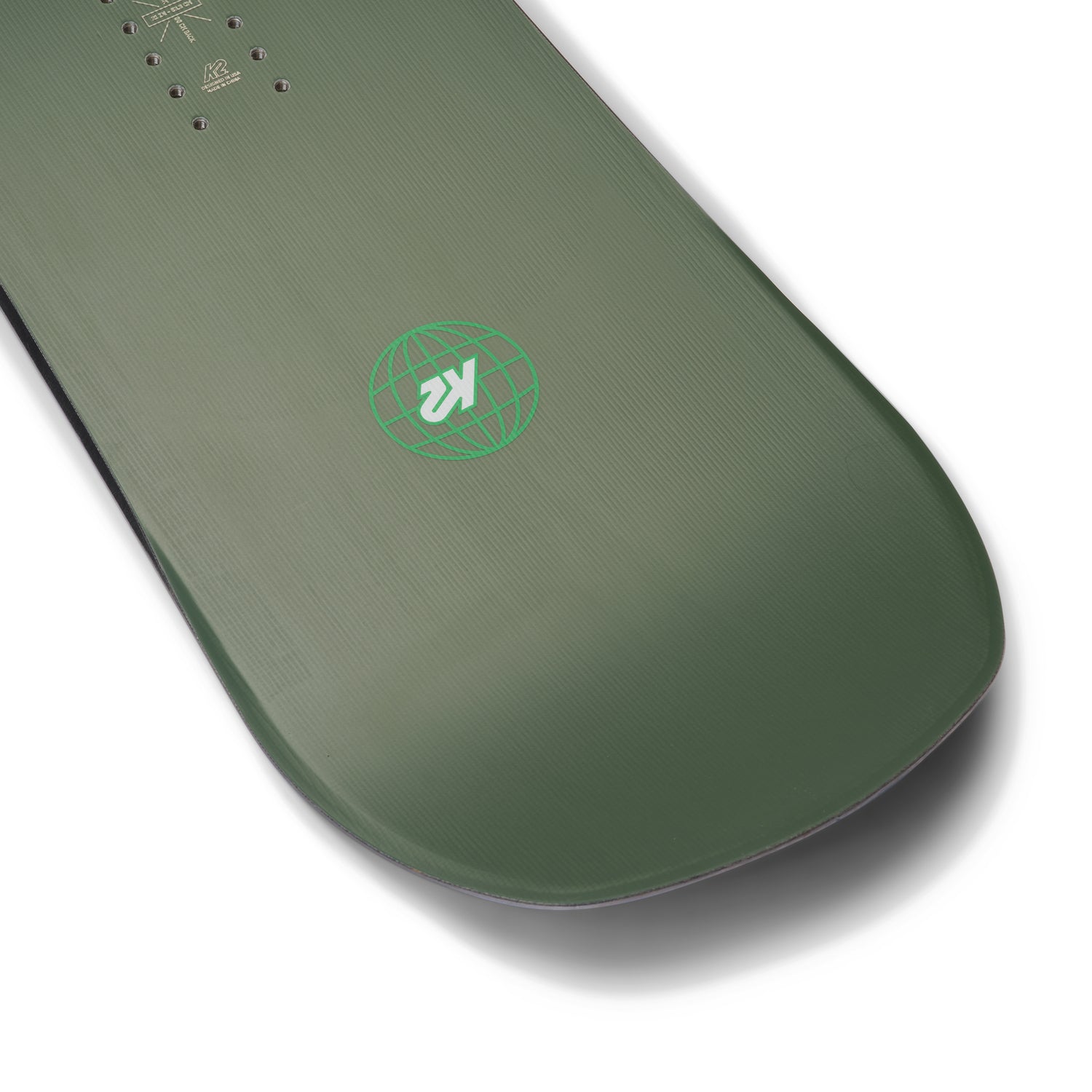 WORLD PEACE
Regular price
Sale price
€500.00
Unit price
per
If your ideal snowboard treats the entire mountain like a terrain park, feelsat home sliding rails and boxes, and ventures into the streets from time to time, look no further than the all-new K2 World Peace. 

Twin in both shape and flex, the World Peace features a smooth flexing single-species core profile that we engineered to lock into presses and butters with ease.  Its core is constructed of 100% Aspen, a lightweight, renewable timber built to absorb shocks and take a beating. We wrap the core in a biax fiberglass--with fibers intersecting at a 90º angle--giving riders the ability to manipulate their tricks and a relaxed feel between features.

Lastly, we gave the World Peace a hard, fast, sintered 4000 base - a material that is genuinely as tough as nails to stand up to the abuse that freestyle snowboarding dishes out. 

Graphically, we worked with K2 Snowboarding Staff Photographer Marc O'Malley to help bring the World Peace some new energy for 2024. A bright, poppy base makes it so that your tricks catch people's attention in the park, and a clean top sheet is the perfect canvas for stickers and maybe even a little bit of illustration yourself. 
Aspen Core - A single species lightweight wood core that delivers smooth flex and lively rebound.
Biax Glass - A fiberglass weave intersecting at 90º angles provides the proper torsional flexibility and strength.
Hybritech™ Sidewall Construction - A K2 exclusive. By transitioning from a P-Tex sidewall into a capped construction in the tip and tail of our snowboards, we can reduce waste while giving our snowboards better energy transfer and making them more durable than our competitors.
Sintered 4000 Base - Hard, fast, and durable, our Sintered Base material holds wax better than extruded materials increasing speed and glide.
SPEDITE NEL MIO PAESE?


Aggiungi articoli al carrello entra nel tuo carrello e vai al check out. Se il tuo paese è disponibile, potrai selezionarlo tra i paesi disponibili e calcolare anche il totale delle spedizioni. Se il tuo paese non è nell'elenco, al momento non è disponibile la spedizione.
Faremo di tutto per poter spedire anche nel tuo paese nel prossimo futuro!

QUALE CORRIERE USATE?
Spediamo con BRT / DPD perché il servizio e la tecnologia non sono secondi a nessuno. Le informazioni di tracciamento verranno inviate tramite e-mail all'indirizzo che ci hai fornito durante l'ordine, la mail partirà una volta che il pacco lascerà il nostro magazzino.
È richiesta la firma al momento della ricezione.

DEVO FIRMARE IL MIO PACCHETTO?
Sì, qualcuno dovrà essere al tuo indirizzo per firmare per il tuo pacco. BRT tenterà la consegna 2 volte e ti lascerà un biglietto da visita se non sei al tuo indirizzo quando tentano la consegna. Nel caso in cui il tuo pacco rientri a causa della mancanza di ricezione al tuo indirizzo, sarà addebitato il costo del reso.

QUANTO COSTANO LE SPEDIZIONI?
Offriamo diversi servizi e tariffe come indicato di seguito:


ITALIA


SPEDIZIONE ESPRESSA ENTRO 24H E 48H per le ISOLE MAGGIORI - 7,00€
Spedizione assicurata (Fortemente consigliata) - 16,00€
Ordine prioritario - 10,00€
Corriere espresso EUROPE DPD 2/5 giorni La tariffa viene calcolata alla cassa.


PAESI EXTRA UE
 
Corriere espresso DPD 3/5 giorni La tariffa viene calcolata alla cassa.
 
DEVO PAGARE IMPOSTE O ONERI DOGANALI?
Assicurati di essere a conoscenza della tassa di importazione e / o degli oneri doganali del tuo paese prima di ordinare da noi. Big Air Shop non è responsabile per eventuali tasse di importazione aggiuntive o oneri doganali emessi dall'ufficio d'importazione nazionale del tuo paese. I dazi doganali e le tasse variano da paese a paese e possono dipendere anche dal valore del tuo ordine.
 
POSSIBILI RITARDI DI SPEDIZIONE
Se il tuo ordine è esaurito, ti contatteremo via e-mail per avvisarti.
Se hai ulteriori domande, scrivici via e-mail a orders@bigairshop.com.
I nostri orari d'ufficio sono dal lunedì al venerdì 09 - 13
Recently viewed products
Continue where you left off!