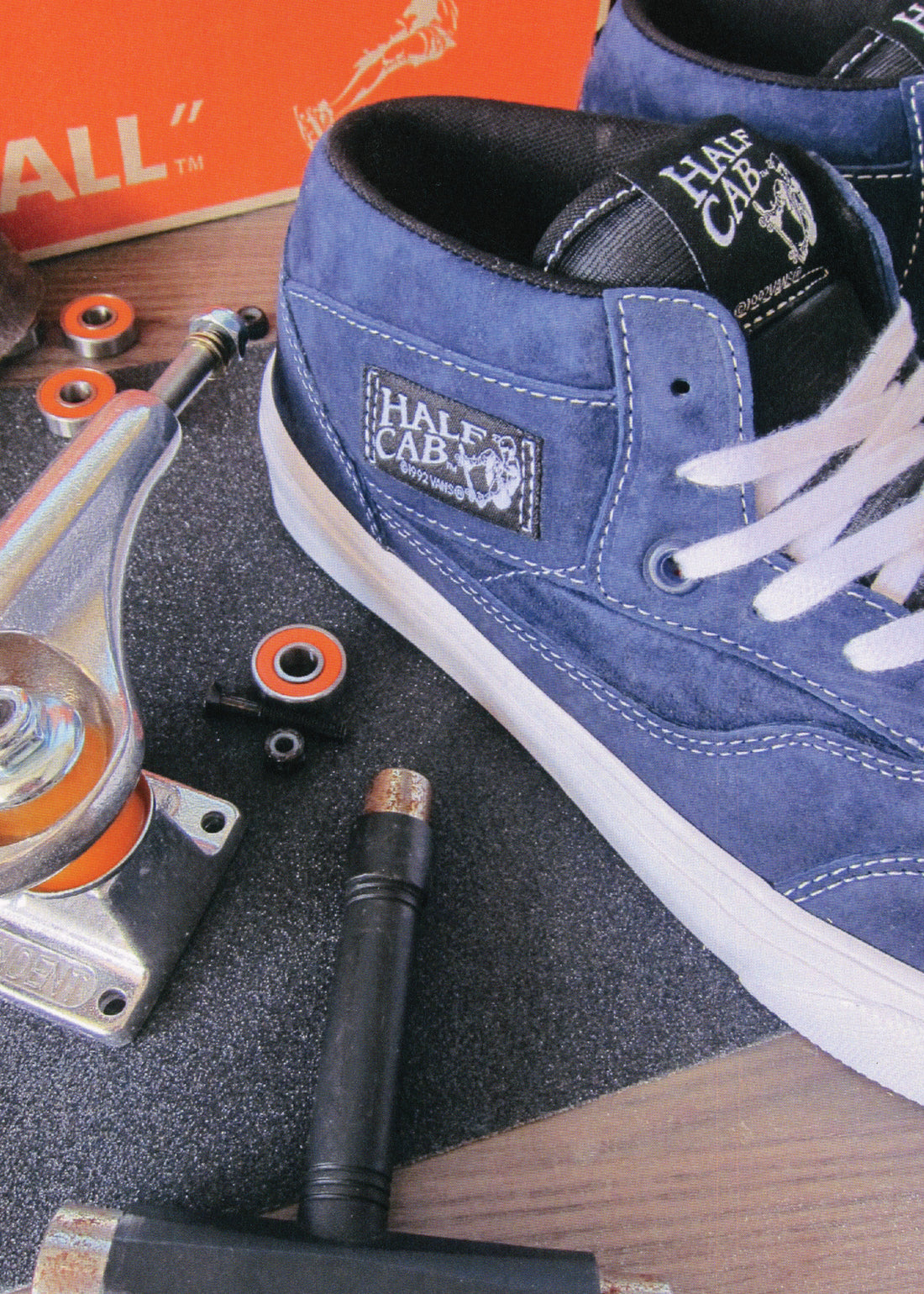 VANS CELEBRATES 30 YEARS SINCE THE FIRST LAUNCH OF THE HALF CAB™
The iconic model that has an entire generation of skaters returns in a revised version with the Skate Half Cab '92.
Vans, l'autentico marchio di scarpe e abbigliamento per sport d'azione, è orgoglioso di celebrare i 30 anni dal primo lancio delle Half Cab™ e presenta le Skate Half Cab '92. Rivisitazione dell'inconfondibile silhouette che ha influenzato un'intera generazione di skater, le Skate Half Cab '92 sono state progettate appositamente per lo skateboard. Un modello realizzato a partire dalle caratteristiche originali, dall'approccio innovativo e lo stile personale che ne hanno fatto un'icona.
Presentate per la prima volta nel 1992, le Half Cab™ sono nate dalle esigenze stesse degli skater, che hanno lavorato alla realizzazione del modello tagliando la tomaia superiore per ottenere una scarpa da skate in versione originale. A partire da un paio di sole forbici e nastro adesivo, hanno inconsapevolmente realizzato quella che sarebbe stata destinata a diventare una scarpa da skate leggendaria. Trent'anni dopo, le Half Cab™ sono ancora uno dei modelli più affidabili e inconfondibili nel mondo dello skate. A partire da questa tradizione, Vans ha realizzato le Skate Half Cab '92, un modello classico destinato a scrivere il futuro dello skate.
Le Skate Half Cab '92 presentano una tomaia in pelle scamosciata rivisitata con un motivo contemporaneo. Il nuovo design separa il puntale e l'inserto di rinforzo per gli ollie per offrire un'estetica moderna. Il contrafforte sagomato e le cinghie bloccate sulla linguetta assicurano una tenuta del tallone superiore, mantenendo il piede bloccato e offrendo un migliore controllo. La nuova forma del rinforzo DURACAP offre flessibilità ed elimina gli ingombri in eccesso per ridurre le zone di attrito sul piede, garantendo una vestibilità essenziale per la massima durata dove gli skater ne hanno più bisogno. Le doppie protezioni a nastro presentano una texture zigrinata più robusta sulla punta e sono state realizzate in SickStick, una nuova mescola in gomma-resina brevettata, per garantire una resistenza e una durata superiori. Inoltre, le solette a ritorno di energia PopCush non affaticano le gambe, per sessioni di skate interminabili.
La finitura laterale è stata combinata con dettagli iconici come l'inconfondibile bandiera checkerboard di Vans e un trattamento grafico specifico per lo skate, per offrire un modello inconfondibilmente autentico. Le Skate Half Cab '92 sono disponibili nelle tonalità Dress Blue e Taupe, per rendere omaggio ai colori originali e agli skater che hanno reso questo modello popolare alla fine degli anni '90 e all'inizio degli anni 2000.
Nel 1989, Vans e la leggenda dello skate Steve Caballero hanno introdotto la prima scarpa da skate realizzata a partire da una collaborazione: la Caballero. Nata dalle esigenze stesse degli skater che la indossavano, la silhouette di questo modello è stata rivisitata negli anni successivi. L'imbottitura della tomaia superiore è stata tagliata per ottenere una versione rivoluzionaria e creativa del modello originale. È così che sono nate le Half Cab™. Quest'anno Vans celebra l'espressione creativa nel mondo dello skate e festeggia i primi trent'anni di un modello che ha influenzato un'intera generazione di skater e non solo. Il passato, presente e futuro di una silhouette inconfondibile tornano con le nuove Half Cab™. Per ulteriori informazioni e tutte le novità dell'anno visita Vans.com.
Le Skate Half Cab '92 sono disponibili online e instore!